SUPERYACHT ARMOUR AND PROTECTION
Bullet resistant armour solutions for superyachts
Our armour can merge seamlessly with your yacht interior. It is hidden behind the façade and interior fit-out. We can design and manufacture bespoke protection for numerous areas: Master suite and crew areas, armoured doors, safe rooms / citadels, internall wall protection and tender protection.
Over the past few years we at ASL GRP have seen a rise in requirements for superyacht armouring. Choosing which armour system and selecting the areas to protect, are very customer specific. The protected area can be already established by the owner and rep, designer or fit-out company. It may vary from a single safe room, master suite, armouries, wheelhouse, crew area, key operational areas, or simply the area in which most time is spent in.
A key part of the evaluation and design process that ASL GRP offer, can be to help establish the key cruising areas, areas of operation of the vessel and then to assess which will likely be the most beneficial positions to armour and level of protection required.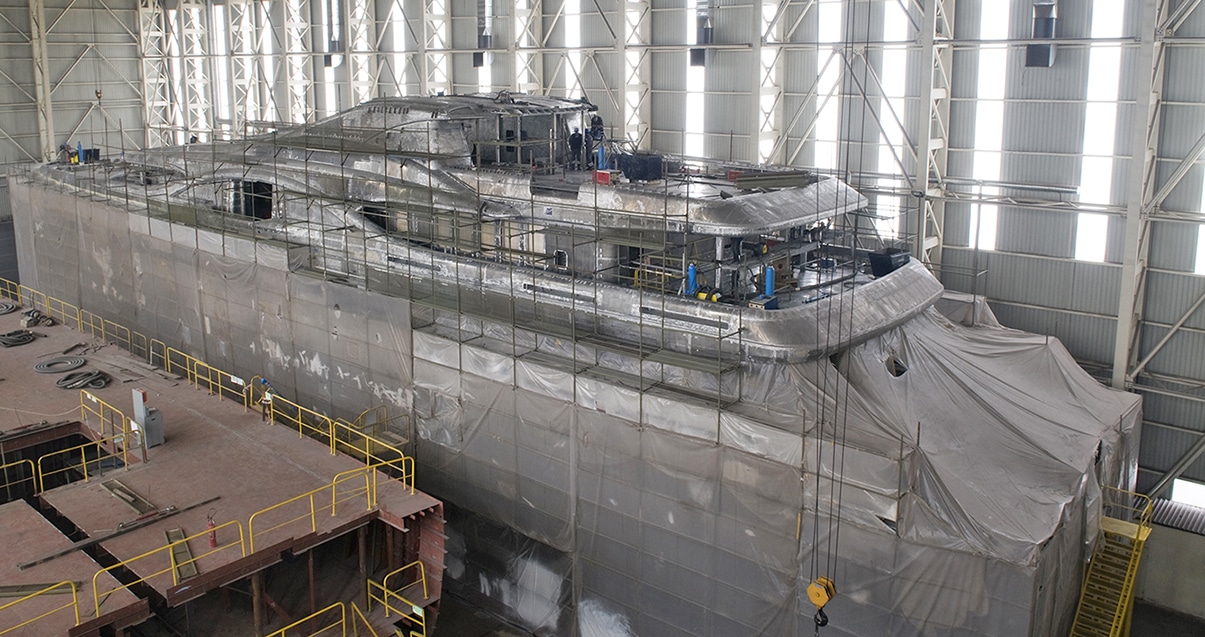 Project Management
• Initial discussions to determine potential threat levels – ASL GRP's technical team and ballistic consultants are able to advise.
• ASL GRP team survey the vessel to assertain material choice.
• The ASL GRP team take templates of required protected areas, any ballistic weakpoints in the design highlighted, and any potential installation difficulties.
• CAD drawings are created and if required, sent to customer for confirmation. A render of the finished project may also be supplied.
• Protection panels and parts are manufactured at ASL GRP's production site.
• ASL GRP's team of engineers install the finished armour products.
• Your internal fit out team are then able to finish the interior in accordance with the yachts' style.
Your yacht is no-doubt unique to you. Your style and your tastes. ASL GRP's armour and protection systems are manufacturered bespoke to your vessel and requirements. There is no comprimise on the aesthetics of your interior. You can enjoy peace of mind in the luxurious setting that you are accustomed to.
It is not practical to armour an entire vessel – particularly when we look at the scale of a superyacht. Therefore the more common route is to create an armoured space to where the owner and his family or guests can retreat in the event of an attack in order to remain secure until help arrives. This could be the entire master suite, a bathroom or a similar space.
The armouring of a superyacht structure only makes sense if any relevant glass windows also match the ballistic protection of the wall/door armour. Specialist glass is required for this, but here the weight penalties can be more severe.
Ballistic Threat Levels
We can supply our protective materials in varying weights and thickness, dependent on the level of protection required.
Some of our materials lend themselves better to certain requirements. Following a brief survey of a vessel, our team can advise which materials are best suited to different areas of the vessel.
Our materials can accommodate ballistic protection levels from small-arms fire up to armour-piercing (AP) rounds. The most common protection levels for a marine application are BR4+ up to BR7. These include the AK-47 Kalashnikov and other automatic weapons commonly used by modern day pirates or terrorists.
The table opposite displays our range of armour protection options and the ammunition rounds against which they typically protect.
We understand the need for privacy and that your requirements will be unique to your vessel. Please call our Sales Director for an initial discussion: +44 (0)1983 400730 or email: superyachts@aslgrp.com