As 2020 begins and we are able to reflect on 2019, here at ASL GRP our busy season didn't end. With new clients, requests and designs, our workload only escalated throughout the year. We endeavour to continue our success in this New Year.
In 2018 we made the decision to be more selective over the shows we participated in for 2019. We consciously cut down on the array of exhibitions, choosing to focus on marine industry based shows. For 2020 we are pleased to announce that we have chosen to exhibit once again at Seawork, Southampton (commercial marine and workboats) and DVD, Millbrook (Defence Vehicle Dynamics). Each of these shows are aimed at more specific markets rather than being under the broader umbrella of 'defence'.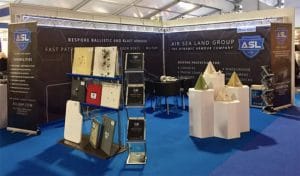 Once again our sales team shall be attending all major events across the UK and Europe.
Our R&D team have worked tirelessly through 2019. As a result we have various new solutions to test over the coming months (including testing our bespoke products for a groundbreaking UK engineering and design company). Check our testing pages and social media for updates.